Most of us have an idea of what a dream house means to us.
But, what if you could barely dream?  What if your small dream house was simply to have a floor made of something other than dirt?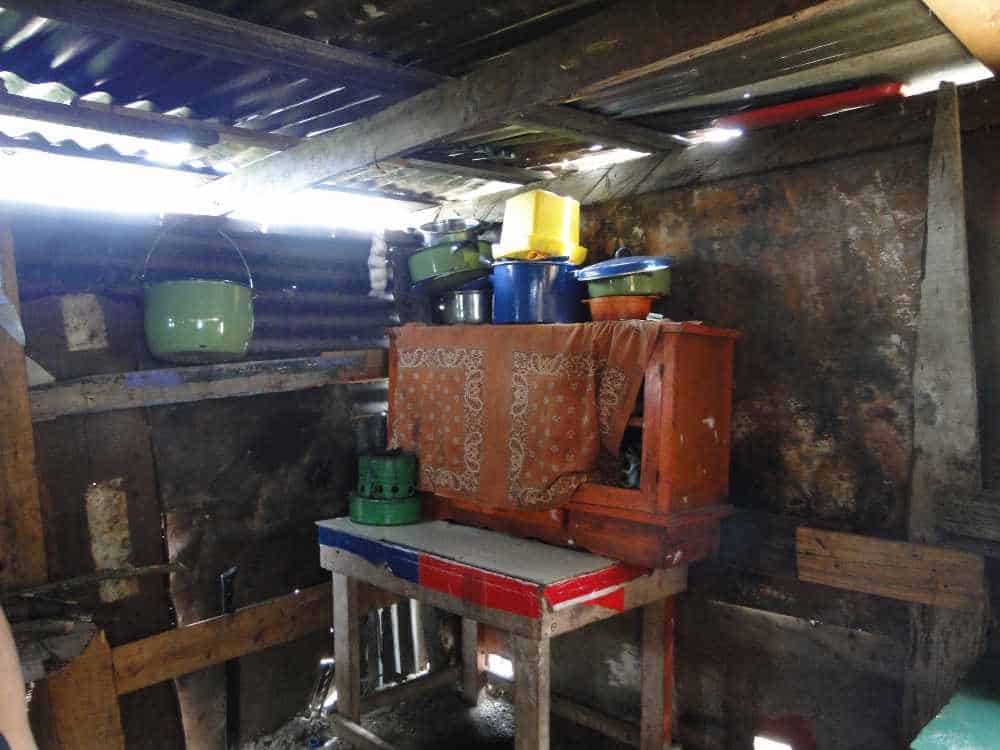 I have one question for you today. Is it possible to keep your dream and help a family living in extreme poverty?
I BELIEVE the answer is YES we can!
Donate today and help us help families living in extreme poverty. Together we can teach them the skills to build out of poverty! This gift will last generation.
Imagine for a moment a dream house that simply gets you and your kids out of the cold, off of the dirt, and had a door that locked.
What if the dream house simply meant you and your kids would be safe tonight?
For over a billion people, a small dream house means life itself.
Get it?  There is no "dream house".  There are only bugs in the ceilings, cow dung on the floor, chickens in the bed, and children with no shoes and some with no clothes.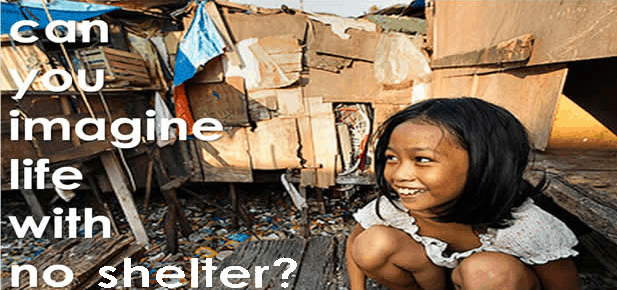 My Personal Dream House Story and How Shelter The World Came To Be
One thing I think we can all agree on is that a house is something we all need.
However, most of us don't even think about "the basic needs." We simply assume water, electricity, plumbing, toilets, a roof will all be included no matter what we buy or rent.
For many of us, a dream house becomes a goal. A vision of a place "better" than what we are in at the moment.  It is a place we are willing to work hard and save for decades to have enough money to one day have. Dream homes to us may include things like a large master bedroom with walk in closets, a living room with an awesome entertainment system, all built on prime real estate.  To some it is a tiny house, or off-grid.  Some want city housing, others want country.
We'll spend countless hours looking at floor plans in magazines. We'll look at various styles and find the one we like the best. We'll decorate it in our mind and consider all the details like the best faucets styles, what table goes into the dining room, placing bunk beds in the kids bedroom, deciding on solar or geo-thermal.  
I was one of those people. I worked hard and saved because one of my goals was to build and live in a brand new house. My first house, though, was a small house built in the 1940's. Buying that house would allow me to move my family out of the inner city and into the suburbs.
It was a grand house in its day but decades of use and neglect made it just another starter home. It turned out that house needed a lot of fixing and updating.
After a decade of work, it was time to leave the house we now called home. My career had advanced and I took a new job in a new city. There I built my first new home. Twice the size of my starter home and in a new community.
A decade later, with more career advancements I built another new home. Again twice the size of the last one.
Then in 2004 I was on a trip and experienced something shocking.
The place I traveled to gave me the opportunity to meet people living in extreme poverty.
That trip caused me to reflect back on the houses I lived in as a kid. The first house was in the inner city. It was a one bedroom house, and my bedroom was the back porch. The second house I lived in was larger and newer. This time, my bedroom was the attic. I remember to this day, lying awake in bed at night, counting nails sticking through the roof. I remember how hot it was in the summer and how cold it was in winter. I remembered too there was a time when I lived on a farm. The farm house was ancient and indoor plumbing didn't come indoors until I was in my mid-teens.
But the place I was now visiting revealed just how blessed I was to have grown up where I did. The houses I lived in early in my life were palaces compared to what I was now experiencing. It was also clear that the house I was currently living in was unimaginable to the people I was meeting.
This trip forced it's hand upon me. The situation was pinning me down and forcing me to see new realities that demanded nothing less than a full re-evaluation of life and purpose.
Because of that trip, I realized, dream houses were unimaginable for MOST people. The dreams of the extreme poor are to have a place that offers the basics. Anything above that didn't make sense.
I had a problem, though. I could not stop thinking about the people I met. I wrestled extensively with the dichotomy between my world and there's. Many things were confusing, but one thing was certain. My life would never be the same.
Questions demanded answers.
The most important question became, "what if your dream was simply to have a floor made of something other than dirt, a place where your kids were safe?"
Soon after Suzan and I started Shelter The World. A non-profit ministry committed to helping people in extreme poverty do one thing. Build out of poverty.
There should be no guilty feelings about our affluence, but there are two ways we handle the blessing of it. Imagine if you will, two very different stories:
Both include you relaxing in the comfort of your dream house. Both include you in your final days.
You will either:
be comforted by the remembrance of helping a family that would not have had a chance had it not been for you, or you'll wonder if the dream will turn into that neglected property that someone eventually buys as a starter house.
The choice if yours but I hope you chose the former.
Many people's dream is simply to have something suitable for walls and a roof. Dream House? Not by our measure. MOST people just CAN NOT imagine what we live in.